Gone are the days of just posting and hoping for the best. It's 2022 and competition is fierce on those social media feeds! To get an advantage over your competition and actually see some ROI, you need a clear social media marketing strategy. And we're here to help you make a social media marketing plan!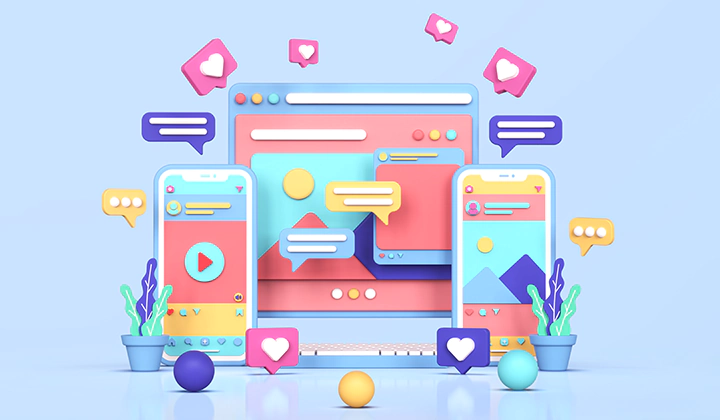 What Is a Social Marketing Plan?
Your social media plan should consist of your social media marketing goals (the business goals you want to achieve through your social media campaigns) and the social media marketing strategy that is supposed to reach those business goals.
In other words, you need to know what you're doing with your social networks and not just push out content and hope for some kind of results. To get ROI on your social media presence, you need to do thorough research and maybe even get some professional help in the form of social media marketers.
Why Is It Important to Have a Social Media Plan?
Your social media marketing plan is there to make sure your investment and social media marketing efforts pay off. You don't want the resources you pour into your social media team to be yet another expense – you want them to bring in that precious ROI!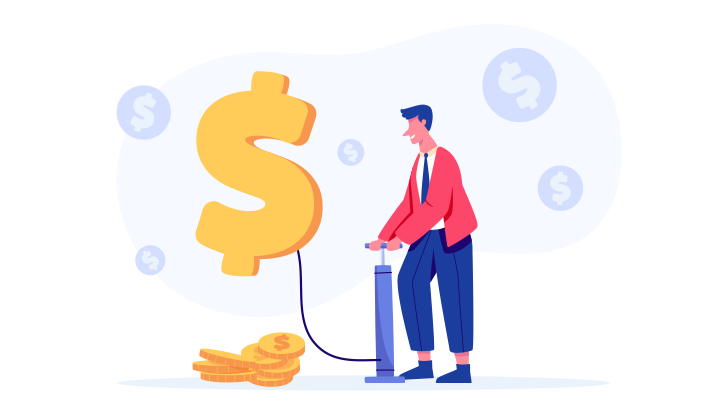 How Do I Make a Social Media Marketing Plan From Scratch?
To make a social media marketing strategy that brings the best results, you need to know where you stand and where you want to go. Then you'll need to figure out how to get there. Here are the key steps to take for a successful social media marketing plan.
Know where you stand
Set clear social media marketing goals
Set your target audience
Choose the right social media channels
Research competition
Develop your social media content strategy
Choose the right social media management tool
Form a marketing team and designate tasks
Maximize your reach
Set up social media KPIs
Analyze and optimize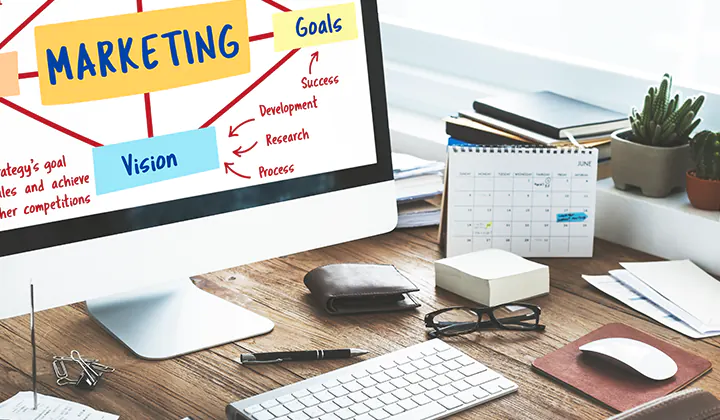 #1 Know Where You Stand
To be able to go places, you first need to understand where you are. It's the same with social media marketing. You will need to look inwards and see where both your business and your social media marketing are now and how you got there.
Make a SWAT analysis to determine the strength and weaknesses of your business as well as your social media strategy so far. That way, you will know what's working towards your business objectives and what's a waste of time and resources.
You will also know what's great about your business and what you should flaunt shamelessly on social channels and what you need to work on. Another important aspect is your budget. You will need to invest some money to get social media success!
So, figure out exactly how much money you can allocate for your social media marketing strategy and social media marketing in general. It can get pretty expensive, especially if you decide to engage in paid promotion or PPC campaigns! You need to have firm control of your budget.
#2 Set Clear Social Media Marketing Goals
Now that you know where you stand, you need to know where you want to go and exactly what you want to achieve with your social efforts. Do you want more social media followers? Do you want to raise brand awareness? Do you want leads and conversions?
If you know what you want to get from your social media presence, it will be easier for you to develop the right social media strategy to achieve it. Your social media goals should be in alignment with your business goals. But, they should also be realistic.
It takes time and money for your social media marketing to bear fruit! Whether you are looking to drive traffic to your website or to raise brand recognition and attract future customers, you will need to work on it.
Also, you need to be aware of just what you can get out of your social strategy. For example, if you are a trucking company, it's not likely you will go viral and have millions of subscribers on Instagram. But, that doesn't mean you can't get social media success!
You won't be the next Khaby Lame with millions of followers and comments. But, you can still get increased brand awareness, more leads, more acquisitions, more clients, you can get industry authority, and grow your business!
Make Sure They're SMART!
You will want your social media goals to be smart! And we don't mean just intelligent, but there's a metric in goal setting called SMART. Here's what it is.
Specific
Measurable
Attainable
Relevant
Time-bound
This will help you steer clear of vague goals which are unmeasurable and make many businesses prone to pouring in funds without seeing real results. The SMART metric will also help you set realistic goals that are achievable and will help you stay motivated and on the right track.
#3 Set Your Target Audience
You need to know who you are trying to reach with your social content strategy. Maybe you already have a target market and target audience from your previous business strategies. But, if you don't, it's of massive importance to set a clear target audience for various reasons.
Many businesses go for all kinds of target audiences as if they're collecting pokemon or their social media marketing plan is 'the more the merrier'. Believe it or not, your goal should NOT be to get as many followers as possible.
There's a reason why we, digital marketers, call the follower number 'vanity metrics' – it's great to boost your ego, but it won't do much for your business. There's no point in having them there if they are not interested in your brand. It can even harm you in a way.
For example, like when you decide to engage in PPC (pay-per-click) campaigns, you will need to pay for every click you get. And if you are offering water restoration services in Vermont, you won't benefit from people from Cali following you.
And Get To Know Your Social Audience!
When you set your target market and audience, you'll need to get to know them. And get to know them really well. First off, you'll need to know what social networks they use so you can focus your social presence there.
Knowing your audience is also important for creating content. You'll need to know what they like and what they want to see to be able to create user-generated content. Curated content is crucial in determining how much engagement you get on your social posts.
You also want to create content that will lead to sales. Do a deep dive into your audience and their preferences and social media behaviors. It will give you valuable insights into what you should offer them on your social media profiles.
#4 Choose the Right Social Media Channels
When you know your potential customers and their online habits, it will be easy for you to choose the right social network or networks. You want to be where your target audience is but you also want a social network that suits your business.
Social media marketing experts will usually advise you to cover all the major social networks, if possible. Of course, that's a great social media strategy and we advise the same. However, if you can't afford to cover all the big ones, you can still get major social media marketing success by choosing just one or two.
That's when you will choose the one (or two) your target audience uses the most. You should also make sure you choose the best social media networks for your type of business. Facebook, for example, is great for any type of business while LinkedIn wouldn't be a good option for a makeup brand.
You should either do comprehensive research about different social media networks and how they serve different businesses. Or you can consult with a professional digital marketing agency or expert on which social network your business will benefit most from.
Know Your Social Media Platform(s)
After choosing the right social media platforms, you're a step closer to your social media strategy template! But, let's not get ahead of ourselves here, there's still work that needs to be done regarding the social channels you've chosen for your business.
You need to get familiar with the features your social media channels offer and how to use them best. Also, you need to establish the best time to post and how the algorithm works so you can get the best engagement on your social accounts.
And last but certainly not least, you need to familiarize yourself with the communication style and trends of the social media platforms you've chosen. This especially goes if you are not on social networks and haven't got the touch for it.
#5 Research Competition
You want to do better and be better than your competitors. You need to check them out on these social channels, take a little look-see into what they're doing there. See what goes on on their social accounts and how your mutual target market reacts to it.
Learn from their mistakes! That's an advantage of opening social media accounts later than the competition – you get to learn from their social campaigns. You also get to see what's the trends in your industry and what kind of social media messages your industry sends out and in what ways.
Based on that competitive analysis, you will decide what you want to keep and strive for, what kind of mistakes you want to avoid, and what you want to bring to the game. See how things are done but ultimately do you. That's what will set you apart from the competition.
Take Advantage of Social Listening
Social listening is another great way to avoid your competitors' mistakes and you should include it in your own strategy. Do little searches of company names and other relevant keywords to find out what your competitors are sharing and how people are reacting to it.
You'll be able to gather useful intel not only on your competition but also on what your target customer base thinks about them. And what your target audience likes and doesn't like, which social media strategies are being made fun of and which are going viral. There's often a thin line!
#6 Develop Your Social Media Content Strategy
Now it's time to make your social media strategy template and social media plan for each social channel. You don't want all your social accounts to look the same! Besides, different forms of content fly on each social media channel.
So it's best to make curated content and social media strategies for all your social media accounts. It's important that you establish a brand voice and keep that consistent voice on every platform.
Your accounts should also reflect your company values but you can use them all for different purposes. And you can then link posts from one channel to another as a form of cross-promotion!
For example, Twitter comes with a limitation of 280 characters so you can use it to post important updates, link to a new blog post, discounts, or promotional activities. A Facebook post, on the other hand, has no such limits. But, you still don't want to will your Facebook page with too much text because it puts people off.
The best you could hope for from such a post is a TLDR (too long; didn't read) comment and that's not something to strive for. So, keep it short and sweet on your Facebook page as well. You can include photos and videos and take advantage of Facebook ads.
Instagram, on the other hand, is where visuals run the house, so you will need to bring your A-game there or hire a designer. You can use it as a virtual showroom and take advantage of the shoppable Instagram feature to make it easier for your customers to purchase your products.
And Create a Social Media Content Calendar
As you may have noticed, there's gonna be lots of posts and content and there's gonna take lots of work. Whether you or someone else is making and posting the content, it will also take a lot of time. Running a social media marketing strategy isn't easy!
That's why you need to create a social media content calendar. Figure out the best posting schedule based on when your target audience is most active and create a social media content plan. This will help keep you organized and keep your social media output optimized.
#7 Choose the Right Social Media Management Tool
Social media marketing tools are part of any good social media marketing strategy. That's because most businesses have a social media team. And you need social media management tools to make sure everyone is coordinated.
Even if you are handling everything on your own, you will still need to be organized and have your tasks in check. Social media automation tools should be part of your social media marketing plan as well. They're a life-saver when it comes to your content calendar – take it from us.
With social media automation tools, you will get a chance to prepare your posts in advance and schedule them to be posted automatically. This will not only save you or your team tons of time but will also make your social media feeds seamless.
There are some social media automation tools that have free basic memberships like Buffer, SendinBlue Facebook Ads, Crowdfire, and Later. Mostly, there's a monthly membership fee, and some of the most popular ones are HootSuite, SocialPilot, ContentStudio, and Sprout Social.
#8 Form a Marketing Team and Designate Tasks
By now, you are aware that this is going to be lots of work. Depending on how important social media marketing is to you and how much time and knowledge you personally have to spend on it, you may need to get some help.
If your social media marketing plan involves dominating most major social media networks to raise your brand awareness, you'll need a team of experts. You'll need content writers to write the content, designers to design your visuals (photos and videos), and social media managers to come up with ideas and keep everyone and everything in sync.
There are two ways you can go about this – hire an in-house marketing department or hire a digital marketing agency. Both have their advantages and disadvantages. Whichever way you go, it's important to delegate tasks and responsibilities.
#9 Maximize Your Reach With Paid Ads
The key goal of any social media marketing plan is to maximize your reach so that more people can be familiar with what you do. That usually translates to a rise in sales and that's how you get the ROI with social media. The thing is, it's not enough to just get organic reach on social media.
It's 2022 and organic reach is officially dead, save for TikTok. TikTok still has a great algorithm and allows for organic reach, but all other major platforms have been 'pay to play' for a while now. That means that you will need to invest in paid ads for a higher reach.
Paid ads and PPC campaigns bring in great results but it's important to factor that in when you create a social media marketing plan and budget. It's also important to know when and how to use PPC in combination with SEO.
When to Use PPC
PPC or pay-per-click is a social media strategy in which you pay for every click you get on your ad. It will get your content at the top of the page, above organic results. Running PPC campaigns often is too costly for small business owners and it can put off some people.
So it's important to have a social media plan of when to use PPC. You should use PPC when you want high traffic immediately. Use it for time-sensitive offers like holiday sales, when you need immediate results, or when you need to present a new product/service.
#10 Create Great Content
Don't get too lost with SEO, PPC, social analytics, and these other metrics! And don't cave into sacrificing your content to please the algorithm or SEO. The most important thing is to create amazing and engaging content that reflects your business and speaks to your audience.
It's easy to lose track of that amidst all these metrics and pieces of advice. So, make staying true to your brand and creating great content a top priority on your mission statement. That is what will attract audiences and keep them locked at their screens!
#11 Measure Your Success With Social Media KPIs
Who says you can't measure the results of your social media plan? You can! It's not going to be exact and precise, but it can be done. You measure social media success with KPIs – key performance indicators. Here are some of them.
Reach
Engagement rate
Website traffic generated from social media
Conversion rates from social media users
Profit made from social media strategy
Again, it's up to you to choose what you want to get from your social media plan and efforts. But, there are analytics tools that can measure these things and once you choose your goals, you will be able to track your social media progress.
#12 Analyze and Optimize
Let us let you in on a little industry secret – your social media plan will never be finished. That's just how it goes. Social media is always flowing and changing. And that's what you'll need to do if you want to succeed on social media.
It's the circle of life on social media – analyze and optimize! Use Google analytics and different analytics tool for each social media platform you use to see what garners results and what doesn't. Then improve from that and always keep it creative and innovative.
Follow the current trends but also show some originality and start your own if you can! Play with your creativity. If you are able to become a trend-setter in your industry, you'll know you are doing social media right!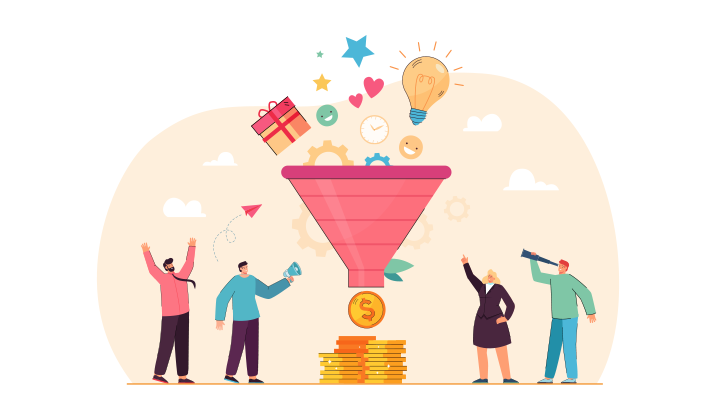 Set Your Business up for Social Media Success With MA Team!
If you think making a social media plan is hard, wait till you see what it's like to execute it! To create content, design, and manage social media AND come up with unique and creative ideas that let you take the lead in your industry.
It also takes a lot of time! If you would rather spend that time doing what you do best and growing your business, we are here to help you with social media marketing. We have all it takes to come up with a social media plan and execute it so that everything goes as planned.
We use the latest and best AI software and tools, have creative content writers, amazing designers, and efficient social media managers. And we can put it all to work to make you shine online and grow your business!