The majority of people hang out on social platforms and use it as a fun pastime. This is why it's easiest to find the audience for your product exactly here. Keep in mind, though, that you need to plan your content wisely. This is where a social media content calendar can help significantly.
Why Create a Social Media Content Calendar?
Setting up a social media calendar enables you to keep up a constant activity on social media. Content calendars also give you a clear overview of all your posts and allow you to stay up to date with their engagement rate. This is how they can help you plan, create, and schedule posts that are more successful in the future.
What Is a Social Media Content Calendar?
A social media content calendar is a schedule of your social media posts. It provides an overview of the past and due posts and thus simplifies the task allocation among your team members.
Content managers most frequently create and manage social media calendars in a spreadsheet form that usually features:
Due date
The social network for which the post is written
A caption and visuals
Potential links (e.g. to your company's blog posts) and hashtags that can be used
A content calendar can be particularly useful for social media marketing managers who are managing multiple accounts. In this case, a social media content calendar also makes your job easier by giving you an overview of all the accounts of which you are in charge in one place.
What Are the Main Benefits of Using a Social Media Calendar
There are plenty of advantages to introducing a social media calendar into your marketing efforts. Below listed are only the top five reasons you should create one.
Keeping a Constant Flow of Posts on All Social Platforms
Posting regularly to your social media channels reminds your followers of your business. It also increases your reach, i.e. the algorithm increases your organic reach based on the impressive reach.
Why is this important? Because it's the whole point of social media marketing. As new people see your content, you will gain new followers, who are then converted into customers.
Not Depending on the Popular Social Media Trends
The worst social media management practice to adopt for your social media accounts is to rely on the current fads to inspire your content. It's okay to refer to the latest news in your field every once in a while. What you mustn't do is stuff your calendar full of this type of content since you run the risk of running out of topics.
Creating Room for the Production of High-Quality Content
When you schedule your social posts in advance, you have more time to dedicate to their content. In turn, you'll come up with better solutions for both text and visuals. First-rate content is the best tool for attracting those picky social media users and turning them into your followers.
Building Your Brand
If you create and follow a social media calendar plan, it's easier to keep publishing regularly. This contributes to the creation of your brand's unique voice that your followers will love. A recognizable brand voice is a building block of a strong brand image and a loyal customer base.
Using the Numbers for a Reliable Engagement Analysis
Having a social media content calendar gives you time to integrate statistical insights into your post planning. This data provides additional guidance that enables you to produce the content that your followers desire. In time, you'll be able to design several templates for top-performing posts. Thus, you increase your campaigns' success potential.
How Do I Create a Social Media Calendar?
The process of creating a social media calendar can go about in a few different ways. Here's how we found it functions best for us:
Analyze the strengths and weaknesses of your past posts
Decide on which social network (or networks) you want to focus
Choose what you'll track within the calendar
Select a storage space for the content you will use
Establish a workflow
Start filling your calendar
Track the engagement rate of what you are publishing
Analyze the Strengths and Weaknesses of Your Past Posts
Take some time to go through the mistakes you made in your social media posts. We're not referring to typos, but you can address those while you're at it. What we are talking about is differentiating between high and low-engagement posts. Find what it was that made some posts stand out and remember it when you start planning for your upcoming posts.
If you are starting an account from scratch, do research on what your competitors are publishing. Go through their social media pages and analyze the types of posts and the success rate of each of them. Who knows—maybe you should start sharing more of your blog articles to your social pages.
Browse for your industry's most prominent or unique hashtags as well, and skim the posts that come up. This examination should give you some idea of how you could start using a social media platform as a marketing tool.
However you approach it, remember to keep your content fresh and valuable! Set higher standards for yourself and your brand's social accounts, and start afresh with a packed social media content calendar.
Decide on Which Social Networks You Want To Focus
The problem may not be in the posts themselves, but rather on which platform they're released. Try experimenting with a different one to see if it can help your engagement rates improve.
You should also keep in mind that each social platform has a different set of followers. Take some time to research each social platform's user demographics and compare them with your target audience. In case the age and interests between these populations are wildly different, don't waste your time. Instead, go ahead and try a new platform. If, however, these two groups have a lot in common, stick to that social platform.
Once you figure out the optimal way to share your content, make sure to keep doing it!
Choose What You'll Track Within the Calendar
If your marketing agency has a small team and you manage a few social accounts, you can stick to a simple social media calendar template in a spreadsheet form. You can find plenty of free templates for social media calendars online.
Managing multiple social media accounts on different platforms is a significantly more challenging task. With this sort of workload and a larger team, it can be difficult to keep track of the assignments and due dates. This is where a good content calendar tool is necessary since it needs to facilitate a large team collaboration!
Most of these tools aren't free, but they can help you significantly. Look for the tools with a calendar feature for tracking a project's progress and simplifying task assigning and sharing. This will help all involved parties communicate regularly to ensure everyone is on the same page. It also makes prioritizing between projects easier while keeping all data in one place.
In any case, start with the basics, such as:
The platform where you're publishing
The due date and time for each post
Copy, i.e., a caption
Visuals, i.e., an image or a video
Links to each of the post elements (store them elsewhere, you don't want text or images loaded in your calendar)
Links to the post that are published
Later on, you can add an "evergreen content" sheet or a tab where you'll store the details of the best performing non-seasonal posts. This way you'll have a reference point for the direction which you should take in the future.
Once you start using your social media calendar with your team, you'll see which tweaks you should make for it to work better.
Select a Storage Space for the Content You Will Use
Content such as copy or visuals for social posts shouldn't clutter your social media calendar. Choose a storage space that will work for all members of the team. This way you can all keep your work where social media managers and other team members can access it.
Bear in mind that the platform you choose as a storage unit needs to have:
Enough space to store all your data
Option for link generation so you can link the content to our calendar
Simple sharing options
Both web and mobile accessibility (so you can manage emergencies remotely)
There are some free options for smaller projects and teams, but if you need advanced features, you'll probably need to choose a paid version.
Establish a Workflow
Talk to your team to figure out what would be the best workflow for your social media marketing projects. You first need to decide how often you will post. This will give you an idea of the workload that each team member would have to manage. Then you can decide on the best course of action.
Establish several rules and guidelines. For example, who needs to create and who to approve which type of post and how they'll be notified when the previous phase is done.
You should also agree on the generation of the post topics and ideas. This process may be the most important and it mustn't completely fall to one person.
Start Filling Your Calendar
Once you have your calendar set up, you can start creating content or scheduling it. These two are interchangeable as long as you stay realistic. This means—don't schedule a post for tomorrow without having any bit of content for it. Rather, create posts ahead of time so that you can be sure everything will run smoothly.
Otherwise, it's up to you and your teammates. Some teams work better when they have a clear deadline for each post. Others like to compile some content before they organize it within a calendar.
Track the Engagement Rate of What You are Publishing
You can do this in the statistics section of each account you are managing more or less for free. A more advanced way to tie all your traffic analysis is to use UTMs. They are extensions to URLs—simple links to, for example, your blog posts that you are sharing on social media.
These extensions to your website links are parameters that enable you to keep track of the traffic your website has gained from social media. This is one of the most important signs of a post's engagement and conversion success.
In other words, these parameters point to the types of posts that attract the largest number of people from social networks to your website. Once your social followers reach your website, the chances of their conversion into a paying customer are significantly higher.
Statistical data helps you find the most attractive post types and increase their frequency in your social media calendar. This way you can polish your social media marketing efforts to perfection.
How to Keep Your Social Media Content Calendar Full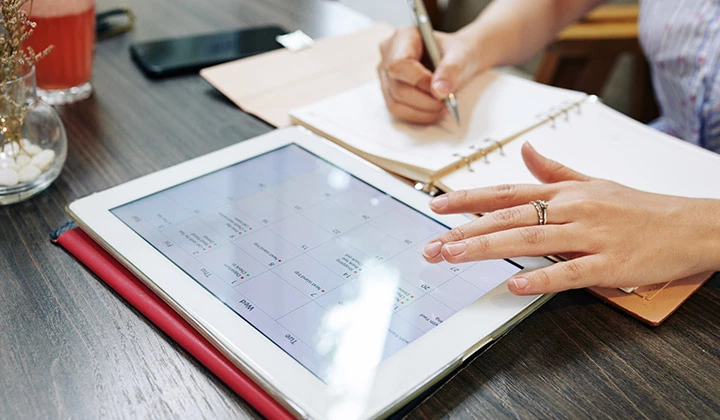 If you don't have enough of your own new content (e.g. blog posts or visuals), check out these tips to keep your publishing calendar full without boring your audience.
Curate the Content From Other Sources
Browse any free online sources such as other brands' blog posts, journals, magazines, newspapers, etc. This will help you fill your social calendar with interesting posts and initiate interaction with your followers around your industry's trending topics. You'll also build a reputation as a brand that cares for what people want to read and shares the content that adds value to the readers' lives.
Re-share Your Best-Performing Content
Tread carefully when implementing this piece of advice. You don't want to make this a regular practice. Your popular posts' re-sharing frequency should attract the attention of the new followers, but still not put off the old ones. So, try to schedule your top performers only once in a while.
Leave Empty Slots if You Don't Have a Good Idea for a Post
If you don't have an idea for a well-built post, leave a placeholder in your schedule. Take time to create content that adds value and fits within your marketing strategy. Once you take a look at the month's outline and covered topics, you may get a clearer picture of what can go in the empty calendar cells.
How to Choose What To Post on Your Company's Social Media Pages
Social media are great tools for businesses to get the word out there and connect with customers. This is why we already recommended going through your past social media posts and identifying the most successful ones. Re-sharing these posts attracts new audiences. They also give you a good idea of how to structure your future content for maximum engagement.
It's also important to make sure your social media content has value to it, or else you're wasting your time and your audience's time. Avoid being overly promotional and spamming people with your content.
Instead, to get more leads for your company in a way that's not too pushy you should:
Schedule promotional material for around 20% of the posts
Create entertaining content about your business or industry (includes publishing curated and re-shared content)
Make sure at least ⅔ of your posts are educational and of value to your followers (visual content such as videos and infographics as well as three o four-min read blog articles are often a good choice)
How Often Should Businesses Post on Social Media?
The analysis of your previous posts should give you an idea of the peak times for sharing your content. This is a good basis for further experimenting with daily social media posting schedule.
When it comes to frequency, the latest research suggests that the best general practice is posting on:
Facebook 1-2 times per day
Instagram 1-3 times per day for posts
Instagram 2-5 times per day for stories
Twitter 3-10 times per day
LinkedIn 1-2 times per week
You shouldn't follow this suggestion blindly as the suitability of it for your niche and brand can't be guaranteed. This is a good point to start, but you must do your own research to find out what works best with your audience. Of course, never stick to this posting rhythm at the expense of quality as you risk becoming a spammer. In this case, not all marketing is good marketing.
How To Pick the Right Social Media Calendar Template
There is not a fixed social media content calendar template that you must follow. The trick is to create your own that will allow you to plan and track all the points important for your social media marketing efforts.
Of course, it's always easier to have a ready-made template to start with that you'll tweak to your company's needs. You can easily find and download numerous free social media calendar templates online. The one we are using is nearly identical to this template, and it facilitates all the planning our agency does.
If the basic and free content calendar templates don't cover your needs, consider including some other content calendar tools in your social media efforts. These can make your content planning process more efficient and easier to manage but are often charged.
What Are the Best Content Calendar Tools?
The selection of social media calendar tools out there is huge. Some of them are free, but if you are looking for a first-rate tool, you'll have to spend a few bucks.
We've picked out several of them that will allow you to streamline your social media marketing efforts and make sure they don't go to waste.
Google Sheets
Google Sheets is the go-to tool for many teams. The obvious advantage is that you don't need any special training to be able to use it. It also comes in the package with your business emailing service if your company has opted for Gmail. So, it can count as a free social media strategy tool.
You can also combine it with other Google Suite apps, such as Google Calendar feature, to make the workflow clearer for your team and easier to manage.
Hootsuite
Hootsuite is among the most popular content planning and publishing tools available. It boasts huge clients such as HBO and Virgin. This isn't a wonder considering all the features this tool offers.
Among the most notable upsides is the option of publishing and editing posts directly through the calendar. Another handy feature is the possibility to schedule post drafts via Hootlet—the platform's Google Chrome extension—simultaneously with browsing the internet for ideas. If you already have a filled-out calendar elsewhere, you can easily load it into Hootsuite in the form of a CSV file.
The automated scheduling feature is another one worth mentioning. It allows you to maintain a constant social media presence regardless of the holidays and the manager's days off.
ContentCal
This is one of the more scalable content calendar tools. You can use it for simple planning if you are just a beginner. In case you are a more experienced social media manager, this is also a good choice as it allows you to both publish the posts and track their engagement.
Additional handy features include large storage space for the marketing material associated with the upcoming posts.
ContentCal is a great option if you have a growing team as it integrates with both Slack and Trello. Thus, this tool simplifies the post-approval process, as well as the collaboration on the ideas and materials.
Agorapulse
Agorapulse is among the most popular social media content scheduling tools.
One of the features this tool offers is the management of incoming comments and messages. Another option that many marketing agencies appreciate is the shared social media calendar add-on. This addition allows the content managers to share the scheduled posts with the clients so they can give their approval on time.
Agorapulse also allows post-scheduling automation—you can choose the posts you want re-shared and the frequency of their reappearance. Thus you'll simplify the planning process even further.
Loomly
This is another team-friendly tool. It allows your team to choose the collaboration workflow that suits you best. By allowing everyone to see each post's status, Loomly makes the post creation and approval process smoother.
Formerly known as Calendy, this tool is a great choice for beginner social media managers. It provides a lot of helpful tips on how to optimize your social media posts for better results. Loomly also offers integrations with all major social media platforms. This is how it allows you to manage all your posts from one place—your content calendar.
The Final Piece of Advice
Listen to your audience! If they are eager to interact with you and praise you, then keep up the good work. It means you've found the golden ratio for your monthly content calendar schedule.
Also, always keep in mind that silence is the loudest feedback. It often means you need to introduce (big or slightly smaller) changes in your social media management practices. In this case, the best way to discover the best practices is to research your competitors' social channels. Take a look at their marketing campaigns on Facebook, Instagram, Twitter, and other platforms. This will be only the beginning.
The next huge step is gathering your social media team for a brainstorming session. Talk about everything from post ideas to the content creation and scheduling process and fix any glitches in your workflow. Here's where various free or paid tools might help you. Then plan your content strategy and get down to business.
Start creating original social content and experimenting with your posting rhythm. Test different content sources, and start with your own blog. Keep a close eye on the reactions for every post and fill your calendar with the types of content your audience wants to see. This is the only fail-proof recipe you'll find for a social media calendar that works.