A well-designed website showcases your offers, instills credibility, and attracts new drivers.
Responsive across all platforms, our designs prioritize user experience, ensuring accessibility on every device. We specialize in WordPress development, custom design, redesigns, and persuasive content writing. With our expertise in search engine optimization and reliable hosting, your trucking website will become an asset for growth.
Trucking Company

Web Design
By clicking Send Message, you agree to send your info to MA Team Marketing Agency who agrees to use it according to our Privacy Policy.
Why Do You Need Web Design for Your Trucking Company?
You need a good web design because it's the first impression you leave as a company. No matter where you advertise and look for drivers, they will check your website to learn more about you. Therefore, it should be modern, fast, with fresh images, available on all devices, and needs to show your company in the best light.
A high-quality trucking company website ensures that when drivers are hunting for jobs, you stand out. Furthermore, effective web design can make it easier for drivers to find the information they need about your trucking business. This leads to better decision-making and trust in your company.
Your website's design can directly impact your conversion rates and affect whether visitors choose to trust you rather than your competitors.
We are confident that our portfolio will assure you that we're the right choice for all your web design needs. Let's get your new website rolling today!
Why Choose Us for Trucking Website Design?
MA Team is where the trucking business and website expertise meet. We own a gallery with the latest truck models, a user-friendly job application system, and advanced marketing automation. So whether you're looking for a modern redesign or a completely new site, let us show you why we're the perfect fit.
We Specialize in Trucking Businesses
You already know that the competition in the commercial transportation industry is tough. To stand out, you need a striking website that showcases your business and attracts valuable leads. That's where we come in.
As a web design company with expertise in the trucking industry, we know what makes a successful website in this business. We have worked with various transportation companies, and we can see what difference a solid web presence makes.
You can trust that we'll provide relevant company information and create an engaging user experience. So don't let an outdated website hold your business back!
We Own Photos of the Newest Trucks
We are currently working with many trucking companies, and we have original pictures of new truck models (Freightliner, Volvo, Kenworth, etc.) in different colors and locations. It's no secret that job seekers want to work for a well-equipped company – that's why showcasing the new trucks will help recruit potential drivers.
Our ultimate goal is to help you attract and retain top talent in the industry. When you show job-seeking drivers that you have newer, safer, and more comfortable vehicles, you increase the chances of them choosing you.
The photos we provide will reveal to your website visitors that your transportation company is modern and up-to-date.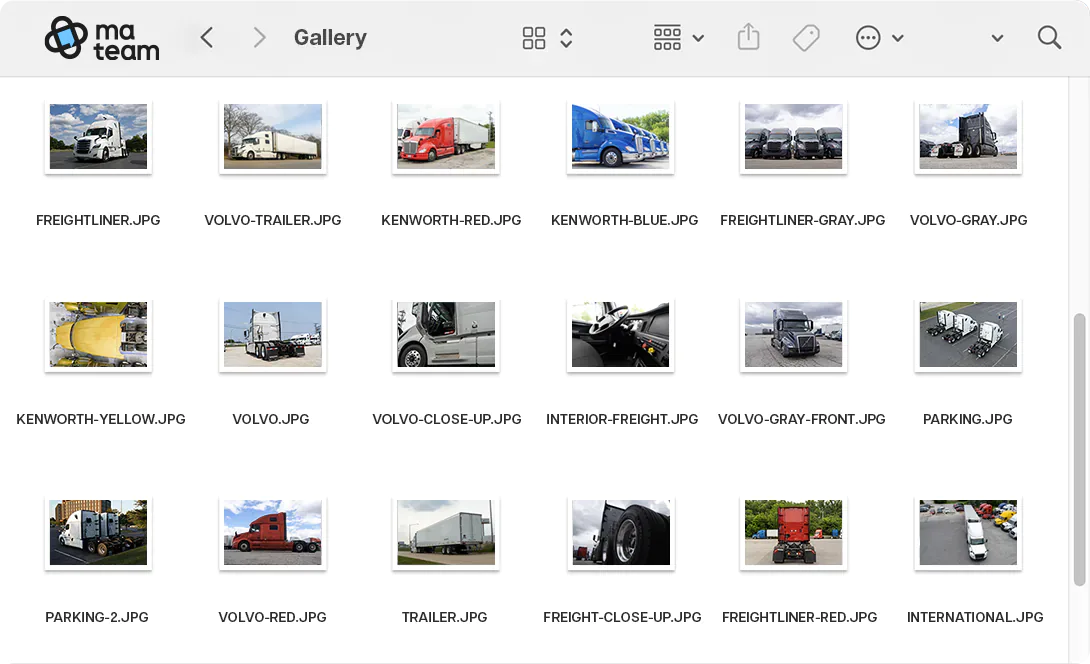 We Developed a Job Application System for Drivers
We developed a job application system similar to IntelliApp that can be implemented on your website. It resembles IntelliApp, but it's even better and more focused on trucking companies.
What sets our system apart is the incorporation of fresh data without pre-populated outdated driver information. This ensures that you receive the most accurate and up-to-date insights on potential hires.
We customize the data for each company, so you can be sure we will meet your unique needs. Our system lets you gather essential information such as drivers' personal details, job experience, education, contact info, and address.
Additionally, drivers can upload their important documents, including a photo, social security number, medical info, and license number. In the end, they must provide a signature. Once everything is filled in, our app generates a PDF report with all the details duly signed by the driver.
The process is smooth and efficient. We've also included the inquiry to the past employer. The app automatically forms questions based on the driver's work history.
Currently, we offer two types of applications. The first is multistep, while the second presents everything on one page. Both formats are responsive and work seamlessly on phones and other devices.
Moreover, our apps operate directly on your website, allowing you to track conversions and retain all data in-house. No need for third-party sites like IntelliApp!
We Have an Advanced SMS Marketing System
Our advanced SMS marketing system makes finding the right candidates for your open positions easier than ever. As soon as someone applies for one of your job ads, our automation system swings into action. An automated SMS can be sent within minutes, providing them with more information.
This is important because potential drivers are more likely to respond back if they are contacted promptly. Top talents often have multiple opportunities, so a delay in communication might lead them to consider other offers. Therefore, answering in time can significantly enhance your success rate in truck driver recruitment and secure qualified applicants.
But the best part of our advanced SMS marketing system is how easy it is to set up. We'll work with you to customize the system based on your specific needs. We'll also handle all of the technical details, so you don't have to worry about a thing. All you have to do is sit back and let the system do the work for you.
Your Trucking Website Will Be Available on All Platforms
It's not just about having a website – it must be easily accessible and user-friendly on all devices. This is especially true for truck drivers who are looking for a job, as they often rely on their phones to search for opportunities.
But the importance of mobile optimization goes beyond just user convenience. Search engines like Google also prioritize mobile-friendly websites in their rankings, directly impacting your website's visibility and organic traffic.
Rest assured – we will ensure your website is optimized for all platforms. Whether it's a desktop computer, tablet, or mobile device, people will be able to access it easily.
Our Trucking Web Design Services
No matter what you've imagined, our trucking website designer team can make it happen. We're here to develop exceptional website designs to meet all your specific requirements.
Below, you'll find straightforward answers to some of the most commonly asked questions. If you have any more inquiries, feel free to reach out to us.