Social media is quickly becoming one of the most important aspects of marketing for any business. It is an excellent way to stay connected with customers and grow your customer base. One problem that many businesses run into, however, is not knowing how to manage their social media accounts. This blog post will explore what social media management entails and why it's essential for any company looking to engage in modern marketing practices.
The first thing you should know about social media management is that it doesn't just mean managing posts on your own account- there are plenty of other things involved!
No matter how you address social media management, whether with the help of an external social media manager or by using tools, it's crucial to understand that social media management is much more than its plane definition. You need to know what it entails, and how to use it as a tool for making your company successful.
Before we dig into the whole management saga, let's cover our basics first:
Social media – the secret tool that will boost your brand's identity
We cannot start throwing around terms like social platforms or social media management tools without giving an intro about social media in general.
Social media has changed the way businesses operate, and they now need to be active on all social media platforms.
It is imperative that all organizations invest in the time it takes to creatively manage their social channels. This will keep customers engaged and interested instead of bored with a lack of creativity on behalf of brands!
You've probably heard the expression "content is king." This means that your content should be high quality and appealing to the audience for social media management to work best for you.
No matter if you are a small business or a large company, social media will allow you to connect with your customers like never before.
Social media marketing
a wheel that spun with no intentions of slowing down
The human desire to interact with each other, and advancements in digital technology have fueled the growth of social media. Now, it's all about how to build and nurture personal connections on a massive scale.
The growth of cellular services, the rise of mobile phones and tablets, and the expanding capabilities of cellphones have all influenced how we use our computers.
With the accessibility of high-speed wireless internet almost everywhere we go, we have become connected now more than ever, and businesses are starting to take advantage.
Thanks to social media apps, people all around the world can carry their communities with them wherever they go, they are connected and constantly communicating, sharing, publishing, social media is here to stay.
Why do businesses use social media marketing?
Simply put, businesses are taking full advantage of the perks of social media by serving their customers better and simpler ways of interacting — and new ways of purchasing services and products.
You have to monitor what the people on the internet are saying so you can get on top of any trends happening online. Especially when they are about your company or product – those are the best opportunities for engagement!
Another amazing statistic is that around 4.2 billion people worldwide use social media on a daily basis. Aside from this number representing a little more than half of the world's population, it is also 90% of all those with internet access.
That means you're missing out on a lot of marketing opportunities to engage with your target audience if you're not utilizing this powerful tool.
You should never underestimate the power of social media marketing. It's a key tool every business should have in their pocket, there is no going around it.
Actually, it's one of the best investments you can make in your business. After all, your goal is to have a successful company that sells, right?
Social media has become an incredibly powerful form of communication, so much that not using social platforms for your business is like not having a website for your company.
Social Media Management – the game changer
…and your new power move
In the simplest words, social media management is the process of researching your social media audience and creating a strategy that's tailored to them, providing content for all their needs.
According to socialmediatoday.com, 84% of social media marketers use social media management for business purposes.
To put this in a more detailed perspective, social media management is a set of steps that will aid you in managing your online presence on social media platforms such as Instagram, Facebook, and Twitter by creating, publishing, and analyzing the content you post.
Managing your social media also involves your constant engagement and interaction with your audience, in order to have long-lasting and good relationships you need to be present in a two-way type of setting. Meaning, don't focus on solely publishing your content, you need to be able to listen to the feedback and interact with them.
Social media management is the process of funneling your marketing to make money from their marketing strategies.
There are plenty of tools social media managers use to run campaigns and analyze results, but we will get into this a bit later.
I get it, it's important… but what now?
We've cleared the part about why you need social media in your businesses' life, and now you are probably wondering about your next steps and what to do
Behold: The Social Media Manager
Like any other campaign, project, or task, the unquestionably key element for executing a good social media strategy is the social media manager.
And no, a social media manager's job is not to take selfies and post on Instagram all day and night if that's what you're imagining. But that can absolutely be a part of his day-to-day activities, depending on the social media strategy.
Whether you find your manager in-house or decide to outsource is completely up to you, but the person who will wear the social media cape has to have knowledge and experience with working in social media.
They need to know how to use it, but most importantly, they need to understand it, to live it, and to enjoy it. These are passionate people who fully appreciate the power of social media and how it influences users.
The job of a social media manager is very complex and requires a creative skillset. Great managers have to be technical and analytical, but also creative and communicative.
Their afternoon may consist of research, customer service, psychology, PR, graphic design, and editing all in one workday, which shows just how colorful their tasks can be.
So you have a little insight on what to expect from experienced social media managers, here are some responsibilities most of them have in common:
In-depth research of the audience
Social media strategies
Taking care of the calendars
Distributing the brand's voice over all channels
Creating new content
Coordinating with designers
Engaging with customers
Social listening
Building and nurturing relationships
Setting and following the budget
Social media and ROI analysis
Analyzing data
Skip the line, and go professional
Why getting it right from the start is important
If you are a business, then you know how important ROI is for your performance. Social media can boost your ROI and improve your brand's image. You can use social media to create a demand for your product or service by getting individuals to follow you and interact with you throughout the sales funnel.
For instance, you can increase your brand's awareness in the first stage by sharing content that is educational. If your goal is to focus on lead generation, you can attract an audience that is interested in your products or services. Offer them guides, case studies, engaging videos, and other creative visuals. If you are focusing on the third stage – decision making, you most likely already have a loyal audience.
Social media provides you with the tools that you'll need to find your audience, and target them directly. The only thing left is learning how to use them correctly, which, of course, takes time, patience, and determination.
However, the truth of the matter is that you don't have to do it, this is where the benefit of a good and experienced social media manager comes into the game. It's important to play your cards right and go over all your options before jumping the curve and try doing it on your own.
Take a look at some key reasons why social media management is so important:
It's budget-friendly. Setting a budget for social media has no limit. In fact, some social platforms can even be used for free! Regardless, using social media to interact with individuals, establish genuine connections, and market your business is a smart step to take if you are on a tight budget.
It's super reachable. You can reach and communicate with users no matter where you are. No matter your target audience, industry, niche, or location, when you're on social media, remember that there's always a spot for you (and an audience waiting to see what you've got).
You can spot user reactions. And use it to your advantage. Identifying your target audience and observing their online behavior, you can craft targeted advertisements, share content that will resonate with their needs, and improve your online presence. This might sound a little spooky but it is necessary for developing a meaningful relationship with your audience, and they will appreciate it right back!
Builds trust and loyalty. With social media offering brands, a unique way to interact with their customers, having candid conversations and positive experiences will help you establish trust and loyalty. It is paramount to nurture that trust and as it will lead to their desire to keep coming back to you, and become a loyal consumer of your brand.
Our social media management services can bring remarkable success to your brand. With our help, you'll be creating devoted advocates who share the word about how amazing you are all over Facebook, Twitter, Instagram, and more.
Manage your social media like a pro
We won't go into depth on how to manage your social media, but we will give you a few tips and a quick overview of what the process entails.
You may be surprised to learn that not all that glitters is gold on social media platforms! There are plenty of low-quality interactions out there. And if you want to help your brand shine, you must find ways to engage with real people (and avoid the robots!).
Choose the right social media platform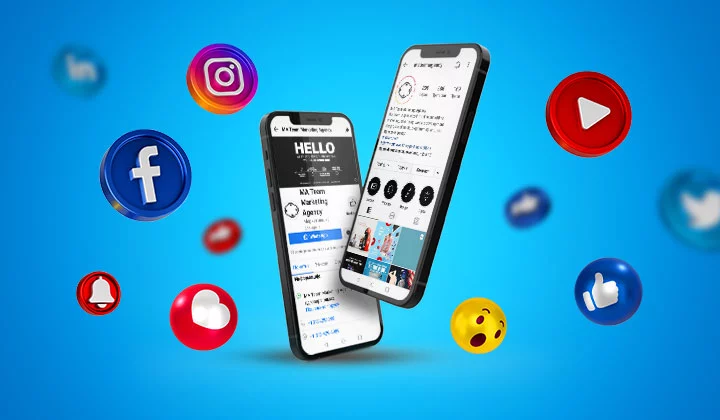 Let's focus on the nitty and gritty of social media management, and tackle the top social platforms you should have your eye on:
Facebook is active with nearly 2.7 billion people daily that live at various levels.
Instagram is one of the top social media apps for brands that create lots of visual content.
Twitter has an audience of more than 321 million people across the world and often is that place which is where users look for the latest news and trends.
LinkedIn is a social media platform where you can save time and target a specific company in different industries.
Since then YouTube has become the third-largest global search machine just behind Google. With unlimited video hosting, even small businesses thrive as they share their entertaining video footage.
Pinterest might be the right social media tool for you since it's become a major e-commerce platform in the last 10 years.
Always have a consistent brand voice on your social media
Consistency plays an important role when developing any type of social media strategy because without being consistent people won't be able to recognize your message.
Along the same lines, there is a very unfortunate possibility that your audience won't be able to find out more about what you do with ease. Which ultimately impacts engagement rates on each of your social platforms.
It's important to be certain that you have the right social media management tools. They need to match up with and reinforce your offline identity – the only difference is that you have many different social media management channels through which to reach consumers.
Develop a strong Social Media Strategy
Your next step should be to develop a social media strategy. This is a critical part that will help you make sure that all your campaigns are performing and helping you get closer to reaching your marketing goals.
After choosing which social platforms will you use, deciding on what type of content will you post, and frequency is your following step.
Begin by reflecting on what you have learned about your audience.
You need to understand and listen to your audience across various channels, focus on their reactions, focus on their interactions, shares, likes/dislikes, and general feedback.
Don't just broadcast your content all over without knowing who it will reach. Explore newsfeeds, track competition, follow trends, and be authentic!
Create a Social Media Schedule that works
All businesses are unique.
Hence, it is impossible to get the same results even though your competitor might have implemented the same strategy in terms of posting on their social media.
Nonetheless, the frequency and time of posting content should be done consistently.
It's simple if your goal is to keep your audience engaged, and you want to raise your brand's awareness, you need to post engaging and quality content at pre-defined times, following your schedule.
Creating a social media schedule beforehand will help guide you through and give you an insight on what to post and where, on what days, and at what time.
Designing a content calendar for your social media channels is a great way to keep track of your business and follow your marketing strategy.
Track your performance and keep tabs
This is a no-brainer.
Just like with any type of strategy you try to execute, making sure that you are tracking and measuring your results is essential. Just like with any other type of digital marketing strategy you apply, you need to prioritize tracking and measuring the results of your social media campaign, and this has to be implemented repeated
The only way to measure if your social media campaign is successfully engaging your target audience and meeting your marketing goals is to track, modify and keep tabs.
This is also a good method of determining if your investment and allocated resources are performing to the best use, important feedback that will be requested at some point.
Implementing this in your into your daily routine should also help you find areas that you can improve and make better.
After analyzing what needs to be edited and adapted, you can start making concrete actions to enhance your social media strategy.
This will help you to get the best results and boost your marketing strategy.
We know you're busy, that's why social media management tools are our territory!
If you want to truly commit to growing your business, it's time to stop thinking about social media as a chore, and start seeing it for what it is – an opportunity to reach your target audience swiftly and effectively.
Your posts are the most powerful marketing tool in your arsenal. And we have the expertise and creativity to make that happen for you.
Our team of experts will help you create a social media management strategy that resonates with your audience. Save time by choosing our social media management services, and your followers will just keep coming back for more!
Outsourcing – your secret weapon.
Hiring an outside company could alleviate this stress by providing consistent updates at all times. At the same time, MA Team Agency saves you valuable hours you would otherwise waste hunting down good material.
So why hesitate any longer? Hiring professionals to take some of that entrepreneurial stress of your shoulders means you will have more room in your schedule to focus on what's really important!
First things first, we need to dedicate some time to create a consistent online brand for your business. We then want to apply that branding on Facebook, Instagram, and all your other important social platforms, so we can project a uniform voice for you on all your social media accounts.
You are probably wondering how can a social media manager keep their organization's efforts from becoming too fragmented? That is another skill we've mastered in our years of experience on various social channels.
We use the latest marketing tools to bring your brand into the future and create eye-catching designs that will help you reach your customers and keep them by your side!
Why hire MA Team as your social media management company?
Knowing what is social media management is and why it's crucial for your business is only half the battle. Now, you must apply that knowledge and begin making social media management decisions for your company.
For some smaller companies with little resources or budget for marketing, managing social media accounts may seem out-of-reach, and time-consuming as it requires a lot of time and experience that many businesses simply don't have.
Not to mention the fact that you might not have anyone on your team with the necessary knowledge or abilities to run successful campaigns.
Well, this is exactly where our social media management company comes in.
How we will make your brand stand out/be seen
With our social media marketing services in place to boost engagement rates with all forms of digital marketing campaigns on both Facebook and Twitter networks alike, there's no better way to handle the management of social media from start to finish.
The MA Team Agency offers everything from strategy development and execution through design and production of creative assets like:
Videos,
Infographics,
Social media posts,
Blog posts etc.
And we can consistently deliver top quality across multiple channels such as:
Facebook Ads Manager (Facebook),
Google AdWords (Google),
Instagram Ads Manager (Instagram),
LinkedIn Ads Manager (LinkedIn),
YouTube Ads Manager (YouTube).
So whether it's organic reach or paid advertising campaigns on these platforms-we've got a social media management plan tailored just for you!
Run your business worry-free
…leave the social media management to us
MA Team is a digital marketing agency that specializes in social media. We are a fun-loving team that enjoys working with businesses of all sizes, across all industries, to help them take their social media presence to the next level.
Let us take care of everything else so you can get back to work with less stress and worry about how well your content is performing online. With our expertise in social media management, we'll make sure that every post reaches the right audience while still being tailored specifically for each platform.
It doesn't matter if you need to be seen on one major platform or market yourself on several – we've got you covered! Our social media management services rely on developing and executing a plan that is tailored to your goals so you can see results fast.