Google Analytics is one of the most important tracking tools for your website. It reveals the data about your visitors, and allows you to plan, track, and do marketing campaigns. Data is the power of the new world.
If you didn't implement Google Analytics to your website, please contact us to do this for you.
The requirement to add or manage Google Analytics users can cross your path many times. Doesn't matter if you are adding a marketing agency or removing previous employees, this will be something you need to know as a website owner.
Without further ado, let's dive straight into it.
Go to the address: https://analytics.google.com.
Once you open your Google account, where you have your google analytics registered, you will see this page:
Go to the admin section in the lower-left corner.
Once the page opens, you will see a lot of options. As the name indicates, you can add/remove users in the User Management section.
There are three levels of User Management:
Account User Management – this is top-level management for your Google Analytics account. One account can have multiple properties (websites) and many views for these properties. You need at least one account to have access to Analytics.
Property User Management – Each website, application, or device for which you create a Google Analytics is called property. Using one Google Account (email address), you can create Google Analytics on multiple sites. How will you organize these relations is totally up to you. Each property has its tracking ID to identify the data from that property.
View User Management – Views are the lowest level of access to your account, and the user can see only the data you assign for that view. Views can be for all website data, only AdWords data, subdomain, or thank-you page.
There is also Organization level on top of all this, but we are not going to go too deep into this. More details about this subject can be found here.
Once you decide on what level user should be added, it is a straightforward process. Click on + in the upper-right corner and type his/her email address.
All the roles and their permissions are pretty self-explanatory, so read them before you make any decision. Once you finish, click add user and complete the process.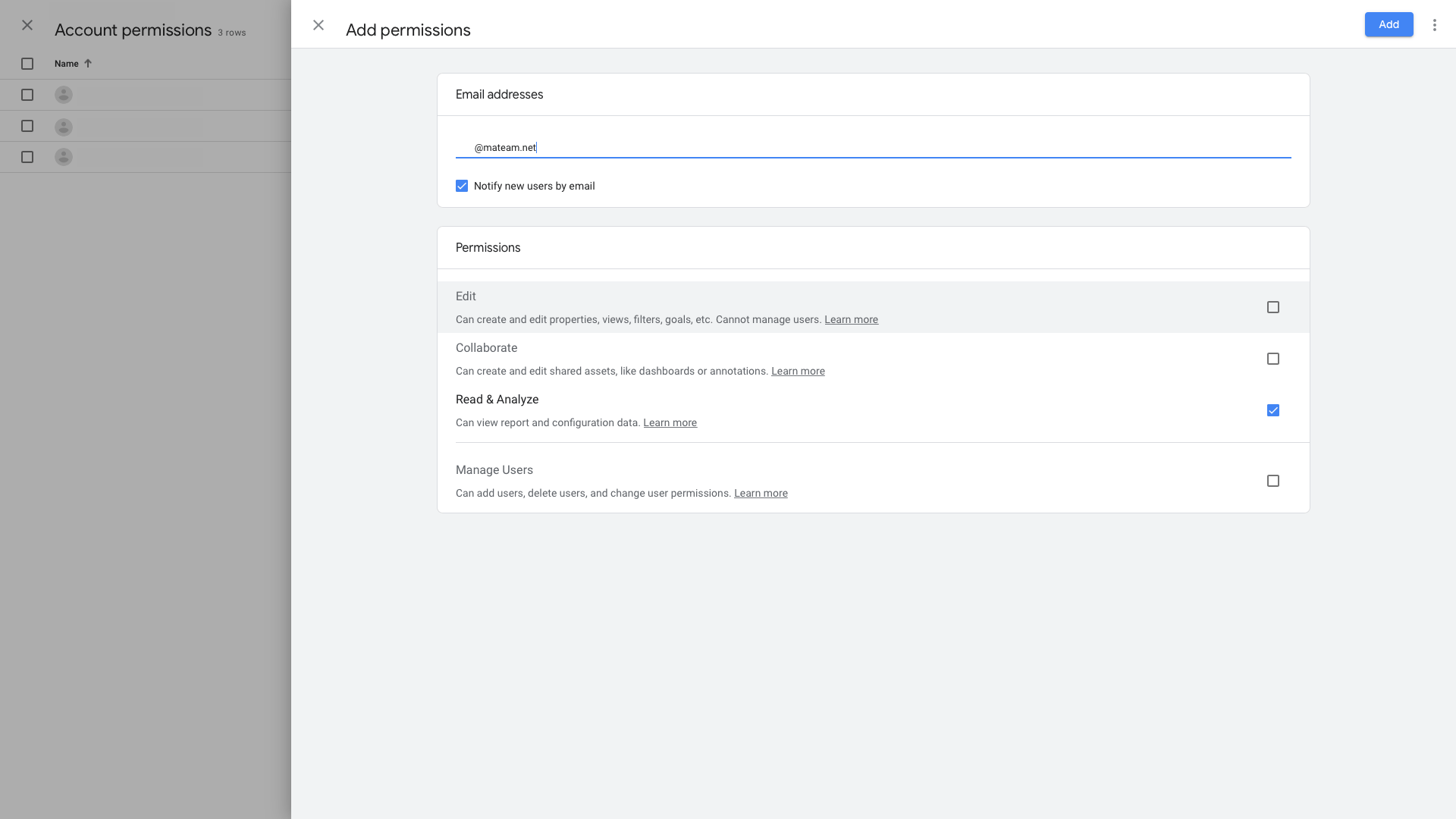 If you need to add Google Analytics to your website, organize your data, create audiences, or retargeting audience list, contact us for more details.