Dramatic Features in New Photoshop Update
Adobe just released a big update (version 22.0) to Photoshop in October 2020, with dramatic features like Neural Filters, Sky Replacement, Refine Hair and Object Aware Refine, and Pattern Preview.
These new artificial intelligence features make Photoshop the world's most advanced AI application for all creatives over there.
This will enable you to work faster than ever before so you'll have more time to be creative.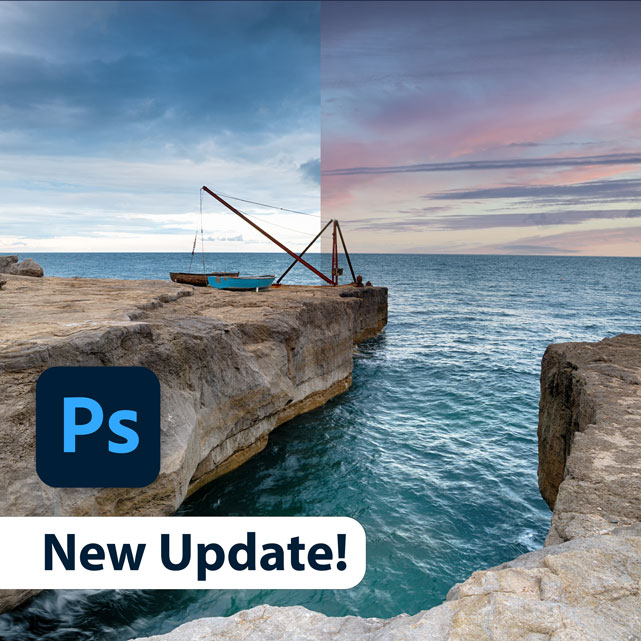 Described as a "new workspace in Photoshop," neural filters can dramatically reduce the workflow involved in changing a person's appearance.
Adobe Sensei, Adobe's artificial intelligence, is behind the neural filters, which integrates with the Adobe Experience Cloud. This filter processes image data in the cloud.
To access this feature in Photoshop, choose Filters > Neural Filters.
In this example, we applied the effect of changing facial expression, rejuvenation, and makeup transfer.
It's almost terrifying how easily a person's appearance can be changed using the new tools.
Under the Filters menu, select "Neural Filters" and it will open a new dialog box with two options visible: Skin Smoothing and Style Transfer. That's what we use in the picture above.
With the Skin Smoothing effect, you'll get a more familiar smooth glow. It automatically removes blemishes, skin spots, and acne with one click. Style Transfer applies a range of artistic styles to images.
Besides these two released filters are Smart Portrait, Makeup Transfer, Depth-Aware Haze, Colorize, Super Zoom, and JPEG Artifacts Removal. With these neural filters, you can adjust a subject's age and facial expression, amplifying or reducing feelings like "joy," "surprise," or "anger" with simple sliders.
In the future we will see more filters like Photo Restoration, Dust and Scratches, Noise Reduction, Face Cleanup, Photo to Sketch, Sketch to Portrait, Pencil Artwork, Face to Caricature.
After they offered a sneak peek a month ago, now we have a chance to see more details of how this tool functions. It lets you quickly select and replace the sky in a photo, automatically adjusting your scenery colors to match the new sky.
Choose Edit > Sky Replacement.
As you can see in the example, the sky area on the original image is automatically selected and masked, allowing the new sky to be displayed based on your selected options. For a smooth look, adjust the sliders to change the sky and blend the foreground with the background colors.
A sky replacement feature could be especially useful for Instagram influencers, always searching for the perfect travel shot. Photoshop will bring 25 sky replacements, but you can also bring in your own.
The sky replacement panel contains several customizable options, including Shift Edge, Fade Edge, Sky Adjustments, Size, Flip, Foreground Adjustments, The Sky Brush, Output, and Sky Groups.
Refine Hair and Object Aware Refine
An interesting feature is the addition of two new tools in the Select and Mask workspace: Refine Hair and Object Aware Refine Mode.
Refine Hair is really what it sounds like: the button at the top right of the Select and Mask Toolbar does the Refine Edge brushwork and attempts to select out your subject's hair intelligently.
The second update is the Object Aware Refine Mode, which is specifically designed to differentiate fine details against similar backgrounds. The new Object Aware button enables a special Refine Edge mode that lets you brush over and select fine detail with a startling amount of precision.
You can now envision in real-time how your design will come to life as a pattern. Easily visualize and create amazing repeating patterns with Pattern Preview.
The new Pattern Preview mode virtually tiles and repeats your design so you don't have to wonder how it will look like a pattern. Try the patterns on your fashion designs, bathroom wallpapers, or a wide multitude of projects you can imagine!
Simply open your design in Photoshop and choose View > Pattern Preview.
This update to Photoshop shows that Adobe doesn't want to be left behind in the race towards AI-powered photo editing domination. You should, too. Update to the latest version and go exploring.
Eead more about these updates on Adobe website.